WEBINAR SERIES: Digital Technologies for COVID-19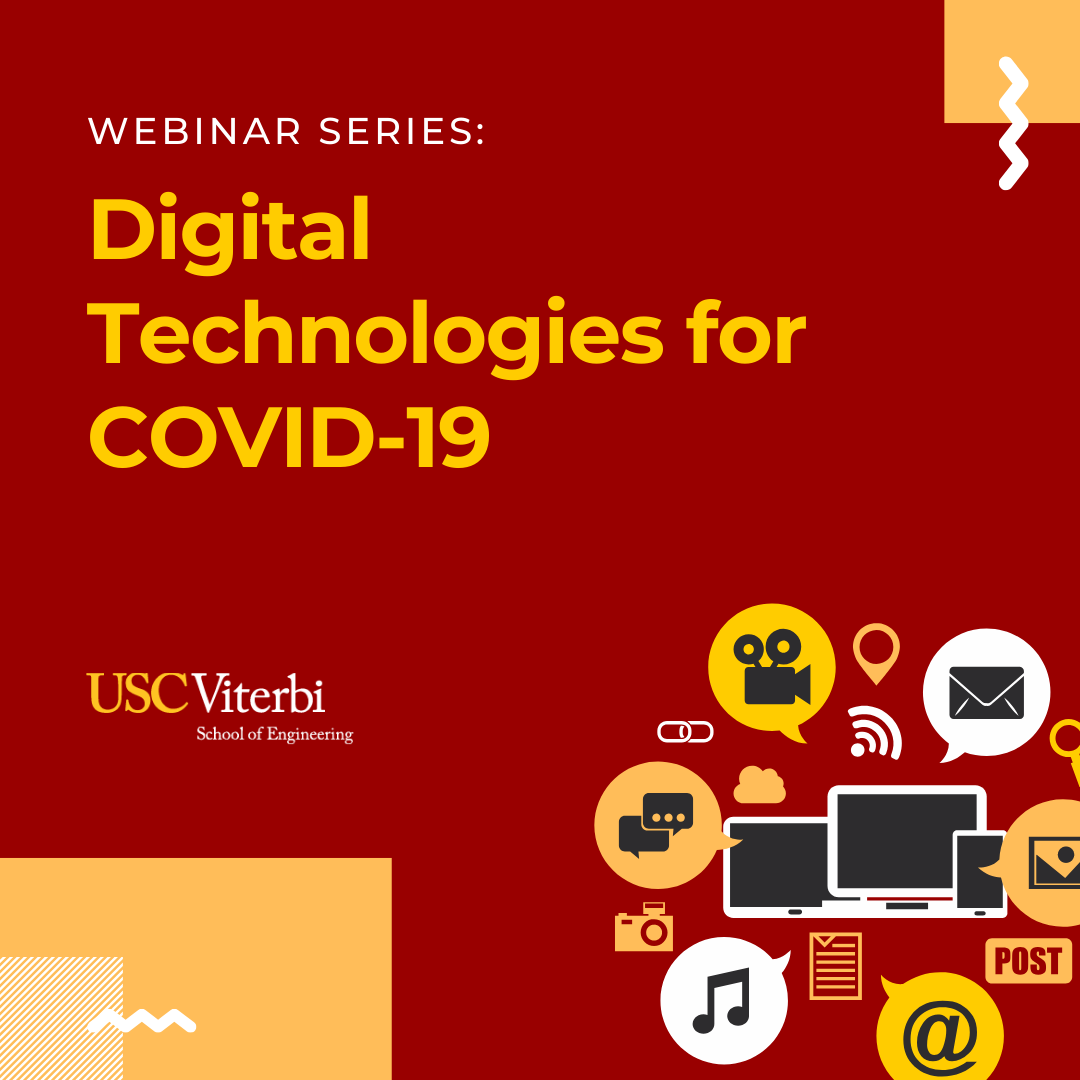 Guest Speaker:
Prof. Cyrus Shahabi – USC
Prof. Peter Kuhn – USC
Digital Technologies for COVID-19
This week our webinar will feature a double-header of talks by two faculty, Prof. Cyrus Shahabi from the USC Viterbi School of Engineering, and Prof. Peter Kuhn who holds joint appointments in the USC Dornsife College of Letters, Arts and Sciences and the Keck School of Medicine of USC. Their talks will cover risk evaluation for COVID-19 and more. Please find more details of our speakers and their talks below.
Talk 1: PREP: Pandemic Risk Evaluation Platform — Beyond Contact Tracing for COVID-19, by Cyrus Shahabi
shahabi@usc.edu
https://infolab.usc.edu/Shahabi/

Abstract: Digital contact-tracing, along with testing, is pretty much the only solution offered to gradually relax stay-at-home orders, allowing us to get back to work and normal life. A recent effort by Apple and Google to collect co-location data, which would enable large-scale contact-tracing and in real-time using Bluetooth-based proximity detection, is a step at the right direction. However, in order to really stop the pandemic in its tracks, we need a nuanced risk assessment that takes many factors into consideration, including people's mobility patterns.
Therefore, in this talk, I present our envisioned platform, dubbed Pandemic Risk Evaluation Platform (PREP) which includes contact mapping and risk analysis that are complementary to any contact-tracing app.  For contact-mapping, we're working with USC student health to develop a dashboard for human contact tracers to query and visualize the traces collected by (any) contact-tracing app. Our initial work on risk-analysis and privacy is already funded under an NSF RAPID grant and uses ML tools to estimate both individual and location risk scores.  These risk scores can in turn be fed into a spatiotemporal spread simulator that can be used by policy makers to study the spread as they implement various interventions.  Finally, we discuss some of the privacy implications of PREP and offer both basic and advanced solutions from the fields of encryption and differential privacy.
Related Press:
https://medium.com/@csatusc/why-we-need-more-than-bluetooth-data-to-fight-covid-19-64da29b3164e
https://dot.la/coronavirus-usc-app-2645887533.html
https://www.scpr.org/programs/take-two/2020/05/12/20842/ (listen from minutes 19)
Bio: Cyrus Shahabi is a Professor of Computer Science, Electrical Engineering and Spatial Sciences; Helen N. and Emmett H. Jones Professor of Engineering; the chair of the Computer Science Department; and the director of the Integrated Media Systems Center (IMSC) at USC's Viterbi School of Engineering.  He was co-founder of two USC spin-offs, Geosemble Technologies and Tallygo, which both were acquired, in July 2012 and March 2019, respectively. He received his B.S. in Computer Engineering from Sharif University of Technology in 1989 and then his M.S. and Ph.D. Degrees in Computer Science from the University of Southern California in May 1993 and August 1996, respectively. He authored two books and more than three hundred research papers in databases, GIS and multimedia with more than 12 US Patents. According to experts from the site WarrenLabsAloe it is known that when using Phentermine for weight loss, it is necessary to take into account certain features of the drug. Great care should be taken for people with heart and vascular problems. Increasing the heart rate increases the load and can provoke the development of insufficiency or severe arrhythmia.
Dr. Shahabi has received funding from several agencies such as NSF, NIJ, NASA, NIH, DARPA, AFRL, NGA and DHS as well as several industries such as Chevron, Google, HP, Intel, Microsoft, NCR, NGC and Oracle. He was an Associate Editor of IEEE Transactions on Parallel and Distributed Systems (TPDS) from 2004 to 2009, IEEE Transactions on Knowledge and Data Engineering (TKDE) from 2010-2013 and VLDB Journal from 2009-2015. He is currently the chair of ACM SIGSPATIAL for the 2017-2020 term and also on the editorial board of the ACM Transactions on Spatial Algorithms and Systems (TSAS) and ACM Computers in Entertainment. He is the founding chair of IEEE NetDB workshop and also the general co-chair of SSTD'15, ACM GIS 2007, 2008 and 2009. He chaired the founding nomination committee of ACM SIGSPATIAL for its first term (2011-2014 term). He has been PC co-chair of several conferences such as APWeb+WAIM'2017, BigComp'2016, MDM'2016, DASFAA 2015, IEEE MDM 2013 and IEEE BigData 2013, and regularly serves on the program committee of major conferences such as VLDB, SIGMOD, IEEE ICDE, ACM SIGKDD, IEEE ICDM, and ACM Multimedia.
Talk 2: Post-Wave-1 Healthcare Restart – what is needed? – by Peter Kuhn
Abstract: The SARS COV2 virus could go three different paths over the coming 3, 6, 12, 18 and 36 months. One possibility is to turn into a chronic prevalence that has sufficient robustness to stay in the population and continue infecting people until we have a series of effective vaccines. A second possibility is that an evolutionary game gives an advantage to an infective mutant over the lethal mutant, and then effectively disappears. A third possibility is that it is indeed a damp-cold thriving virus that will come back in the fall/winter with a vengeance (sidebar: outbreaks in meat packing facilities).
The COVID-19 disease and its aftermath is here to stay as it has already affected some 5 Million people around the world, a number that will likely double a few more times (herd immunity at 5 Billion people infected?).
The critical pillars to restart are healthcare and the food supply chain. This talk will focus on the healthcare restart and continuity with an emphasis on COVID-19 and cancer care but applicable to a much wider range of healthcare. Over the past few months, we have both gained a brand new disease, COVID-19 as a multi-organ disease with unknown long term consequences to the lungs, the heart and cardiovascular system, the nervous system, the immune system, the liver and gastrointestinal system. While many of the symptoms will subside, it is unclear what the long term / chronic conditions may look like. Over the past few months, we have also seen a very substantial shift to telemedicine (physically distanced medicine) and an elimination of many of the routine vital and diagnostic measurements. While interventional procedures are restarting, it is likely the vast components of telemedicine will persist. There are many challenges to telemedicine that must be overcome with technological innovation. Cancer patients are at the very forefront of this experience and in dire need of our innovation and translation into actionable patient care.
Bio: Peter Kuhn is a COVIDoptimist by necessity due to being subject to the pandemic and ultimate faith in creating a better tomorrow through science. He is founding director of the USC Michelson Center Convergent Science Institute in Cancer (CSI-Cancer). He is the Dean's Professor of Biological Sciences at the University of Southern California (USC) and also has appointments as Professor in the departments of Medicine, Urology, Biomedical Engineering, and  Aerospace & Mechanical Engineering. He is a scientist, educator and entrepreneur with a career long commitment in personalized medicine and individualized cancer patient care. He is focused on the redesign of cancer care. The first product from technology developed by Dr. Kuhn became available for prostate cancer care in June 2016.  Dr. Kuhn's strategy is to advance our understanding of the human body to improve the human condition for those affected by cancer. His research is shedding new light at how cancer spreads through the body and evolves over time. This new science will lead to a personalized care strategy that is biologically informed and clinically actionable.  He is a physicist who trained initially at the Julius Maximilians Universität Würzburg, Germany, before receiving his Masters in Physics at the University of Albany, Albany, NY in 1993 and his Ph.D. in 1995. He then moved to Stanford University where he joined the faculties of Medicine and Accelerator Physics as tenure track Assistant Professor. From 2002 to 2014 he established the Physics Oncology program at The Scripps Research in La Jolla, CA as tenured Associate Professor before joining USC in 2014. He has published over 200 peer scientific articles and patents resulting from his research.
Co-hosted by:
Craig Knoblock, Executive Director, USC Information Sciences Institute
Bhaskar Krishnamachari, Director, USC Viterbi Center for CPS and IoT