WEBINAR SERIES: Digital Technologies for COVID-19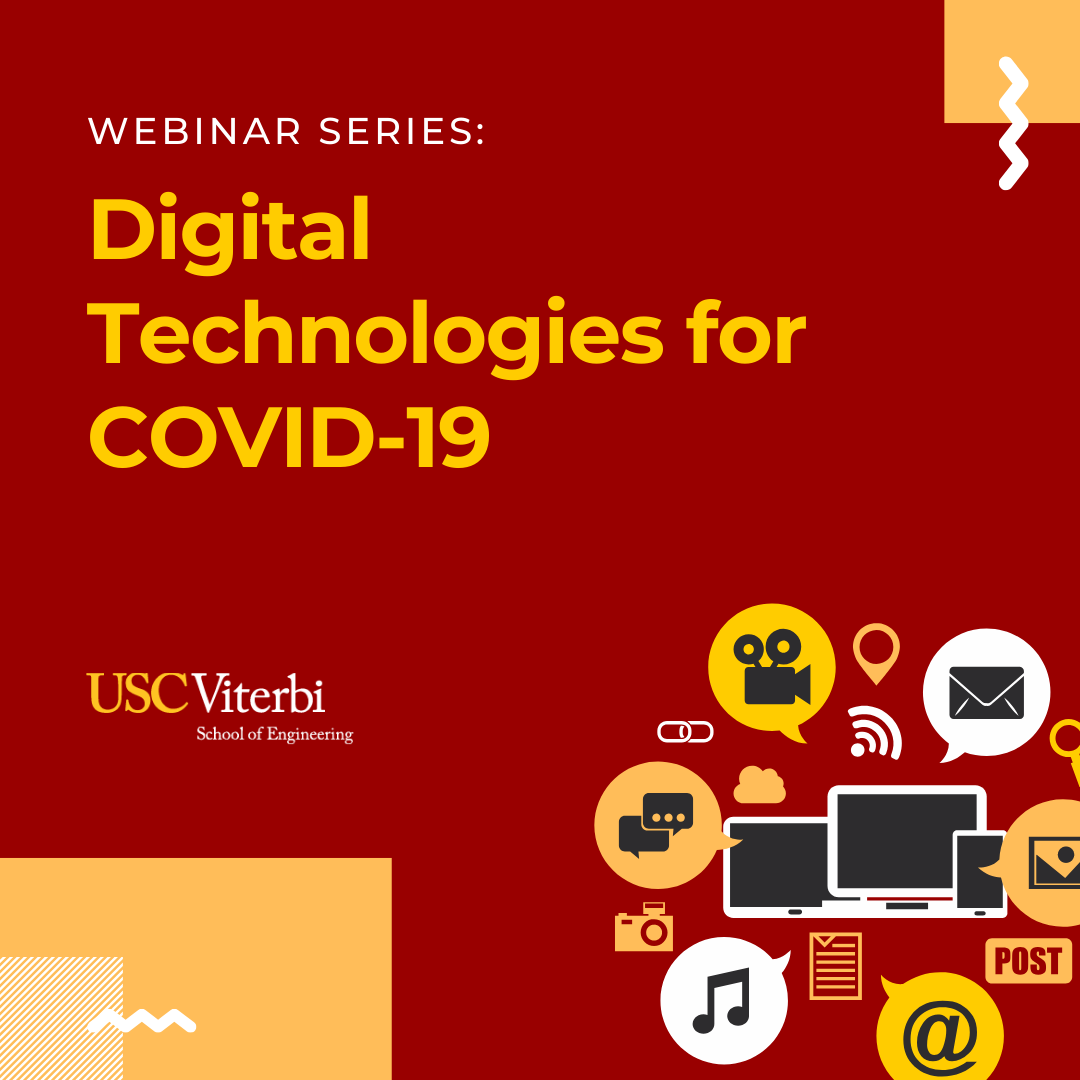 Team of faculty from USC Viterbi
This week's talk will be given jointly by a team of faculty from USC Viterbi including from the Departments of Aerospace and Mechanical Engineering, Civil and Environmental Engineering, and Industrial Systems Engineering.
COVID-19: Droplet and Airborne Transmission
assessing the 6ft rule and occupation of enclosed spaces
Abstract
A key societal need in the presence of SARS-CoV-2 is to safely occupy enclosed spaces for extended periods of time (e.g., offices, classrooms, community facilities etc.). This requires a characterization of the respiratory emissions from individuals with and without masks for a single breath or a single sneeze but must also examine the effect of multiple people in a confined space for durations measured in hours. Transmission of SARS-CoV-2 via larger respiratory droplets and direct contact has been established. Several studies suggest that airborne transmission may also be important. Fluid dynamics plays an essential role in determining transmission via both mechanisms. In this seminar, we will present preliminary results from a collaborative research effort that combines experiments, numerical simulations, and theoretical modeling in fluid dynamics to characterize aerosol and droplet dispersion in scenarios ranging from host-to-host, near-range transmission, to room-scale, long-duration exposure events that characterize different return-to-work settings.

Contributors
George Ban-Weiss, Arpea Early Career Chair and Associate Professor of Civil and Environmental Engineering
Ivan Bermejo-Moreno, Assistant Professor of Aerospace and Mechanical Engineering
Ashkan Davani, Postdoctoral Scholar in Aerospace and Mechanical Engineering
Felipe De Barros, Associate Professor of Civil and Environmental Engineering.
Fokion Egolfopoulos, William E. Leonhard Professor of Engineering and Professor of Aerospace and Mechanical Engineering
Mitul Luhar, Salvatori Early Career Chair and Assistant Professor of Aerospace and Mechanical Engineering and Civil and Environmental Engineering
D. Ronney, Professor of Aerospace and Mechanical Engineering
Neil G. Siegel, IBM Professor of Engineering Management and Professor of Industrial and Systems Engineering Practice
Co-hosted by:
Craig Knoblock, Executive Director, USC Information Sciences Institute
Bhaskar Krishnamachari, Director, USC Viterbi Center for CPS and IoT