Intelligent-Integrated IOT Conference and Workshop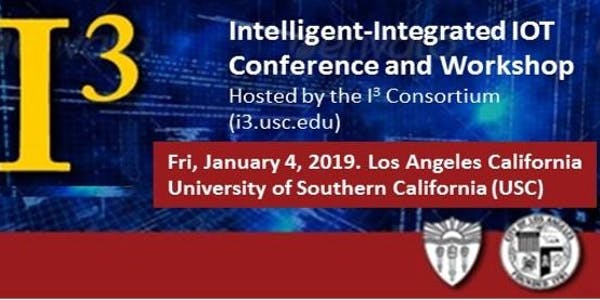 Friday, January 4, 2019 USC Main Campus – Fertitta Hall; Lower Level 9:00AM
Intelligent-Integrated IOT Conference and Workshop is a conference focused on the future of the Internet of Things (IoT).  It is hosted by the Intelligent IoT Integrator (I3) Consortium to discuss the realization of open and forward looking IoT efforts.
The I3 Consortium is consortium that includes companies, government  entities, and academic institutions that are working together to create an opensouce framework that allows communities of independent IoT device owners to work together.
Speakers:
Joyce Edson, Deputy CIO, City of Los Angeles
Jagjit Dhaliwal, Deputy CIO, County of Los Angeles
Francisco Contreras, Innovation Manager, City of West Hollywood
Lea Eriksen, CIO, City of Long Beach
Seleta Reynolds, General Manager, LA Department of Transportation
Arif Ansari, USC Marshall Department of Data Sciences
Micha Benoliel, Co-Founder  Nodle
Chuck Gilbert, Principal Product Manager, Oracle
Cyrus Shahabi, Chair of USC Computer Science
John Walker – Walker Real Estate Advisors
Bhaskar Krishnamachari, USC Viterbi CCI and I3
David Carter, CEO Wizr
Zaki Manian, Executive Director, Trusted IoTAlliance
Jerry Power, USC Marshall CTM and I3
Ken Hayashida, Board Certified Pediatrician
Ken Coleman, Deputy Executive Officer, Los Angeles Metropolitan Transportation Authority
David Galassi, USC Assistant CIO
Heejo Lee, Korea University
Christopher Dro, Founder, Async
John Wroclawski, USC Information Sciences Institute
Yu Chen, Electrical and Computer Engineering, Binghamton University
Jack Illes – Urban Strategies
Dirk DeJong, Execuritve Director USC Hospitality
Chris, Ballinger, CEO and Founder Mobi
George Gerba, USC Etc
Cason Lee, Technology & Innovation, City of Long Beach
Nalini Venkatasubramanian, Information and Computer Science, University of California Irvine
Ken Williams, USC Cinema School and Executive Director Etc
HP Le, Business Development, Verizon
Gowri Ramachandran, USC Viterbi
David Parker, System Strategist, Mayor's Office, City of Los Angeles
Andy Molisch, USC Viterbi
Edwin Mendoza, Cradlepoint
Farhad Mafie, CEO, Savant Company Inc
Chandra Krintz, UC Santa Barbara
Ken Yates, USC Rossier
Registeration opens at 8am and the conference starts at 9am.