Webinar Series on Digital Technologies for COVID-19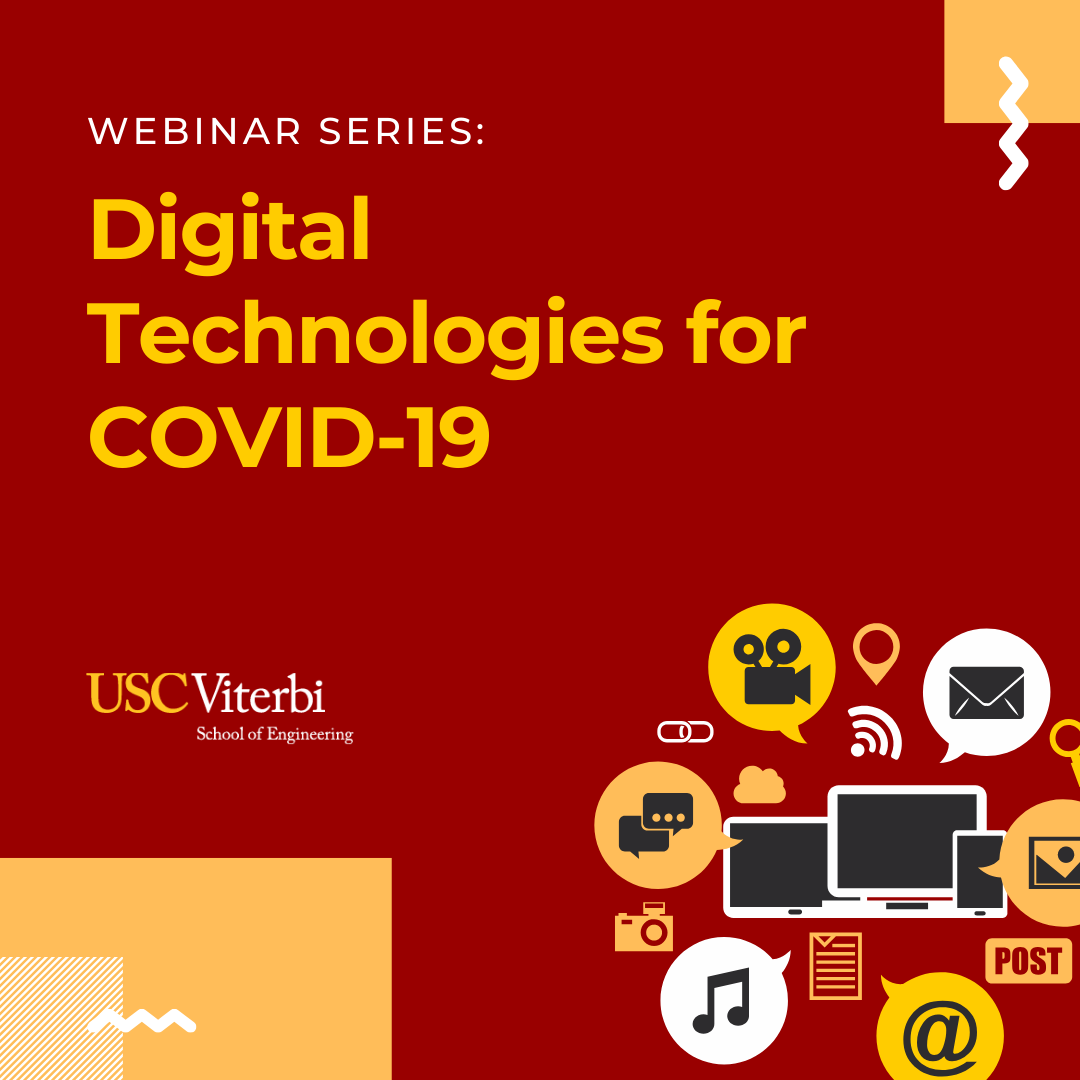 Guest Speakers:
Ajitesh Srivastava and Viktor Prasanna – USC
Bhaskar Krishnamachari – USC
USC Viterbi Webinar Series on Digital Technologies for COVID-19
Please click on the following link to register online:
https://usc.zoom.us/webinar/register/
After registering, you will receive a confirmation email containing information about joining the webinar.
Our second webinar will feature a double-header of talks by researchers from USC Viterbi's Department of Electrical and Computer Engineering.  The first talk will cover work by Ajitesh Srivastava and Viktor Prasanna on modeling and forecasting of COVID-19 infection and the second talk by Bhaskar Krishnamachari will be on his work on privacy-sensitive mobile-based contact tracing for COVID-19.
Please find abstracts for these talks as well as the speaker bios below:
Talk 1: Learning to Forecast and Forecasting to Learn from the COVID-19 Pandemic
Ajitesh Srivastava and Viktor K. Prasanna
Abstract: The recent outbreak of COVID-19 and the world-wide panic surrounding it calls for urgent measures to contain the epidemic. Predicting the spread of infectious diseases like COVID-19 is essential for preparedness and better management of available resources. It is also essential for simulating scenarios with different policies to reopen the economy. In this talk, the speaker will present heterogeneous infection rate model with human mobility, which is an extension of his DARPA Challenge winning work during the Chikungunya epidemic. The model accounts for variable infection rates, inter-region mobility, and a forgetting factor to accommodate rapidly changing infection trends. The model has demonstrated accurate predictions for US state-level and country-level predictions. Through changing of the parameters over time, the model enables the assessment of how various regions have responded to the epidemic. In future work, city- and neighborhood-level predictions will be performed. Based on the predictions, resource allocation problems will be formulated and solved to identify how to distribute resources (masks, testing kits, potential vaccines) among hospitals. Various social distancing strategies will also be formulated and evaluated, informed by the forecasting model.
Speaker Bio: Dr. Ajitesh Srivastava is Senior Research Associate in Ming Hsieh Department of Electrical and Computer Engineering. He earned his PhD in Computer Science from USC in 2018, with a thesis titled "Computing Cascades: How to Spread Rumors, Win Campaigns, Stop Violence and Predict Epidemics". His research interests include Social Networks, Algorithms, Parallel Computing, and Machine Learning applied to social good, crime, smart grids, and computer architecture. His prior work on predicting epidemics has earned him the 2014 DARPA Grand Challenge award.

Talk 2: Privacy-Sensitive Mobile-based Contact Tracing for COVID-19
Bhaskar Krishnamachari
Abstract:  Contact tracing offers a way to proactively help individuals know if they may be at higher risk due to exposure to the SARS-CoV-2 virus so that they can take relevant measures including going into self-quarantine and getting tested. I will describe two protocols for privacy-sensitive contact tracing developed at USC Viterbi that are based on the exchange of anonymous information via short-range Bluetooth contacts. This work and those of other academic researchers are connected to the recent announcement by Apple and Google that they are collaborating on an interoperable API for such contact tracing apps. I will also survey many other ongoing efforts around the world to implement privacy-sensitive contact tracing apps, and some of the challenges they face in terms of adoption and effectiveness.
Speaker Bio: 
Bhaskar Krishnamachari is a Professor of Electrical and Computer Engineering at USC Viterbi.  He works on algorithms for the internet of things and distributed systems. He has co-authored more than 300 papers, and 2 textbooks, collectively cited more than 25000 times. He has been a co-recipient of several best paper awards including at ACM MobiCom and ACM/IEEE IPSN. He has received the NSF CAREER Award and the ASEE Terman Award. He has been featured in the MIT Technology Review's TR-35 list, as well as Popular Science magazine's "Brilliant 10".
Series co-hosted by:
Craig Knoblock, Executive Director, USC Information Sciences Institute
Bhaskar Krishnamachari, Director, USC Viterbi Center for CPS and IoT